Swedish Cousin
La prima sueca
---
Production details
Direction: Inés María Barrionuevo & Agustina San Martín
Country: Argentina
Year: 2016
Duration: 20'
Language: Spanish
Subtitles: English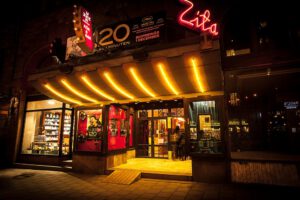 Zita Folkets Bio
Birger Jarlsgatan 37
111 45 Stockholm
(T) Östermalmstorg

Zita Folkets Bio is the oldest autonomous cinema in Stockholm. The cinema's task is to show quality films for both adults and children that do not usually appear on the bigger cinemas.
About the film
Just before Cata's 15th birthday, she's getting more nervous by the day. Especially when her level-headed and reserved cousin from Sweden comes to visit. But Cata's moodiness gradually gives way to tentative feelings of affection.
Included in a program of five short films that reflect on the challenges that Latin American girls and adolescents face in their transition to adulthood.