Mixed Race
Parda
---
Screenings
Production details
Director: Tai Linhares
Country: Brazil
Year: 2019
Duration: 29 min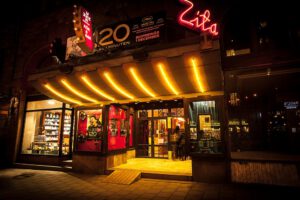 Zita Folkets Bio
Birger Jarlsgatan 37
111 45 Stockholm
(T) Östermalmstorg

Zita Folkets Bio is the oldest autonomous cinema in Stockholm. The cinema's task is to show quality films for both adults and children that do not usually appear on the bigger cinemas.
About the film
An authoritarian regime plans to restore white supremacy in Brazil. Their first act is to demand the return of all white Brazilian citizens living abroad. In the midst of this political chaos, Tai needs to prove that she is not white, but is faced with uncertainty about her own racial identity. The film delves into the ambiguous concept of race in Brazil, exploring the traces left by its colonial past and the family history of the director. An exploratory journey between fiction and documentary.
Screened together with Negra.