Los Lobos
Los Lobos
---
Screenings
Production details
Director: Samuel Kishi
Country: Mexico
Year: 2019
Duration: 95 min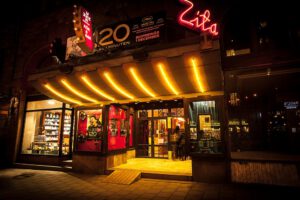 Zita Folkets Bio
Birger Jarlsgatan 37
111 45 Stockholm
(T) Östermalmstorg

Zita Folkets Bio is the oldest autonomous cinema in Stockholm. The cinema's task is to show quality films for both adults and children that do not usually appear on the bigger cinemas.
About the film
Eight year old Max and his younger brother Leo don't have much, but they have each other and their mother Lucía. And they share a dream as well: To visit Disneyland one day. 
The family has recently emigrated to the USA from Mexico, and while Lucía tries to finance their new life by doing odd jobs, the two brothers spend their days in their sparsely furnished one-room flat. The walls of the room, which they are forbidden to leave, become a projection screen for imaginative adventures and open a window on their new life.