Production Details
Director: Ana García Blaya
Country: Uruguay, Argentina
Year: 2022
Duration: 78 min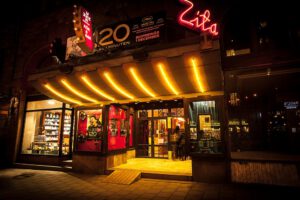 Zita Folkets Bio
Birger Jarlsgatan 37
111 45 Stockholm
(T) Östermalmstorg

Zita Folkets Bio is the oldest autonomous cinema in Stockholm. The cinema's task is to show quality films for both adults and children that do not usually appear on the bigger cinemas.
About the film
Lucas Pereyra is a writer in the middle of a crisis in his 40s. He believes he will find relief from his partner, his paternity, his economy– in a getaway to Montevideo. He dreams of meeting again with a girl –much younger than him– whom he met on a previous trip.
Argentinian mingle by the Argentinian embassy, 17:00, before the screening the 31st of September at cinema Zita.